The volunteers at Khalsa Bikers have been arranging charity motorcycle rides since 2011. The purpose of this article is to provide an update on the work that has seen the bikers raise £25,000 for charitable projects in London and across the globe.
In 2011 keen motorcyclists from across the UK came together and took part in the first ever charity motorcycle ride for Khalsa Aid; travelling from Ace Café London to Glasgow via the picturesque Lake District. 18 riders helped raise £10,000 for the Focus Punjab project initiated by Khalsa Aid to help the Shaheed families who currently have no choice but to live in dire poverty.
Khalsa Bikers was officially created following the successful completion of the London to Glasgow ride, the team decided to form an organisation that would work with other charitable groups to help humanity. On February 28th 2012 Khalsa Bikers was entered onto the Charities Register of England and Wales (charity number 1147933). We recently published our first edition newsletter which you can find at http://www.khalsabikers.org/attachments/newsletter_web.pdf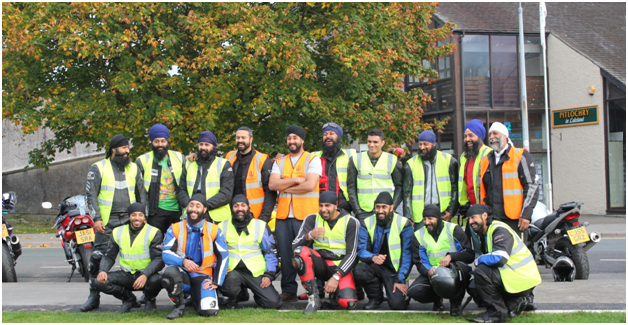 Having a laugh at Lake Windermere
In 2012 the team returned to organise an unprecedented tour of Europe that saw the participants travel 3000 miles across 7 international borders in 7 days to raise money for 3 fantastic beneficiaries.This proved to be a very challenging event as the bikers averaged 10-12 hours of riding per day. The ride however was well worth the effort as we managed to raise total £11,000 for Khalsa Aid, SOPW and Great Ormond Street Hospital. The bikers again paid for their own travel and food costs.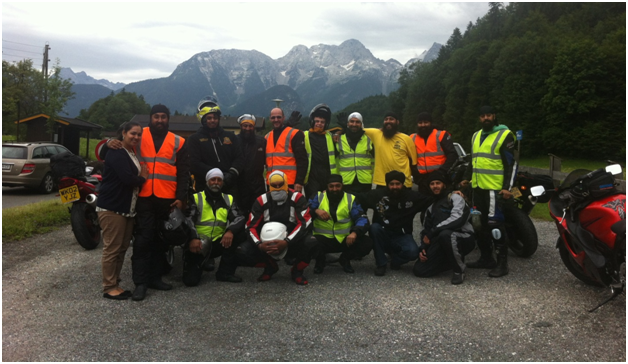 About to conquer the Grossglockner Pass, Austria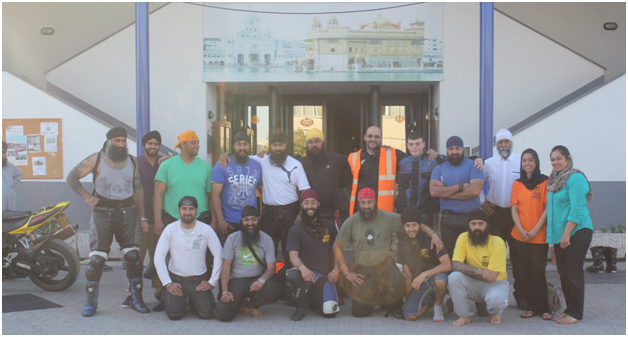 Riders and Sevadaars at the Gurdwara in Reggio, Italy
In March 2013 the team completed the first event of this year, a UK Sikh heritage trail that saw them visit the former estate of Maharaja Duleep Singh in Thetford; the National Sikh Heritage & Holocaust Centre in Derby; and then on to the Brecon Beacons in Wales. This was a challenging experience due to the adverse riding temperatures. The bikers endured temperatures of below 5 degrees Celsius, made even colder when factoring in the chill wind factor the bikers experienced. However the efforts of each participant were well worth it as we were able to provide the Ekomcharity with £2,000, which has helped 500 underprivileged people with the gift of sight. It is amazing to know that our work can go to a very worthy cause. In addition to this, the team were also able to help the Salvation Army by providing them with £700 for collection and distribution of sundries.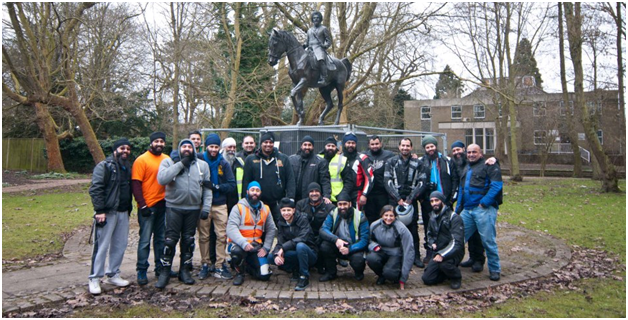 Posing with the statue of Maharaja Duleep Singh in Thetford, Norfolk
We are currently preparing for our next event which is only two weeks away – Route13. This will be a 5 day tour around the UK, visiting 13 Gurdwaras across major cities such as London, Leeds, Newcastle, Edinburgh, Glasgow, Birmingham and Cardiff to name just a few. The theme for this year's event is "All is Yours" as per Guru Nanak Dev Ji's message of "TeraTeraTera". The route will consist of motorways, A and B roads and a trip to the Lake District and popular motorcycle passes across the country. The event will see the riders raise funds for 3 charitable causes, namely Khalsa Aid, Pingalwara and Everythings13 – Basics-of Sikhi. Please do check out our promo video and circulate across the cyber world to help us raise as much awareness as possible –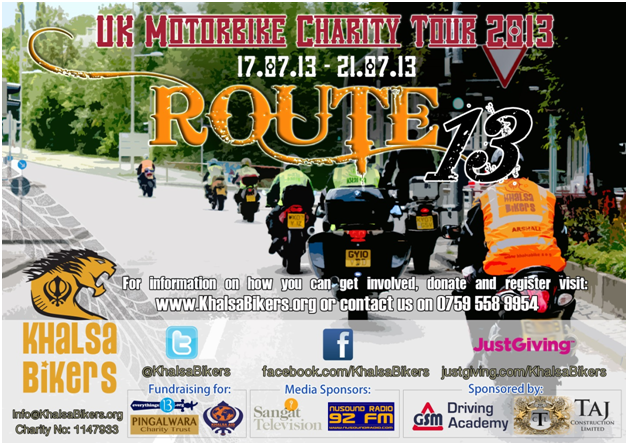 Please donate at www.justgiving.com/khalsabikers