When young Ketan Kalra returned home after delving into some research on the donut markets abroad and opened up a small donuts outlet in Sector 8, launching his own brand by the name Super Donuts, little did anyone expect that he would make it a successful venture in less than a year.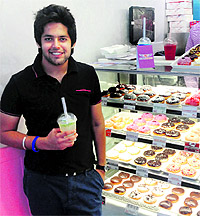 Not only did the youngster, now 23, show enormous maturity and business acumen in pulling crowds straightaway by catering to their palate a wide variety of donuts, sandwiches, wraps, coolers, shakes, etc, some of which were not even heard of in the tri-city, but has also just opened another outlet in the eatery zone in Sector 35-C. Ketan's face lights up as he explains that his new cafe has trendy rugged looks to its interiors and it is sure to leave customers mesmerised with 28 varieties of donuts alone.
There is the After 8 Mint (named after the famous American chocolate) and 8 to 10 varieties of filled donuts which have different flavours of both fillings and toppings. Some of the other varieties are blueberry, strawberry, Boston cream (which has custard inside), mango, M&M Donuts, Peaches of the Moon, walnuts, etc. The most popular among the city crowds are the Team Double and One Happy Bean (a combination of coffee and chocolate). Among the newer ones is Funki Munky with Strawberry filling and chocolate topping. There are also options available for the experienced palate, the extremely health conscious and the sugar free crowd.
The eatery is well stocked with a variety of healthy bagels with four options of cream cheese – plain, spicy, oregano and garlic and two bread options of whole wheat and multi-grain. Another healthy offering is the tortilla bread wrap in flavours like light smoked chicken and veggie light.
For coolers there are the aptly named Ice Blasters like Purple Haze, Lychee Freeze, Arctic Blue and Big Apple. Super Donuts offers super thick and creamy American style shakes. — TNS